Keeping the dream of homeownership alive.
Keeping the dream of homeownership alive.
Mr. Cooper Group Inc. (NASDAQ: COOP) provides customer-centric servicing, origination and transaction-based services related principally to single-family residences throughout the United States with operations under its primary brands: Mr. Cooper® and Xome®.  Mr. Cooper is one of the largest home loan servicers in the country focused on delivering a variety of servicing and lending products, services and technologies. Xome provides technology and data enhanced solutions to homebuyers, home sellers, real estate agents and mortgage companies.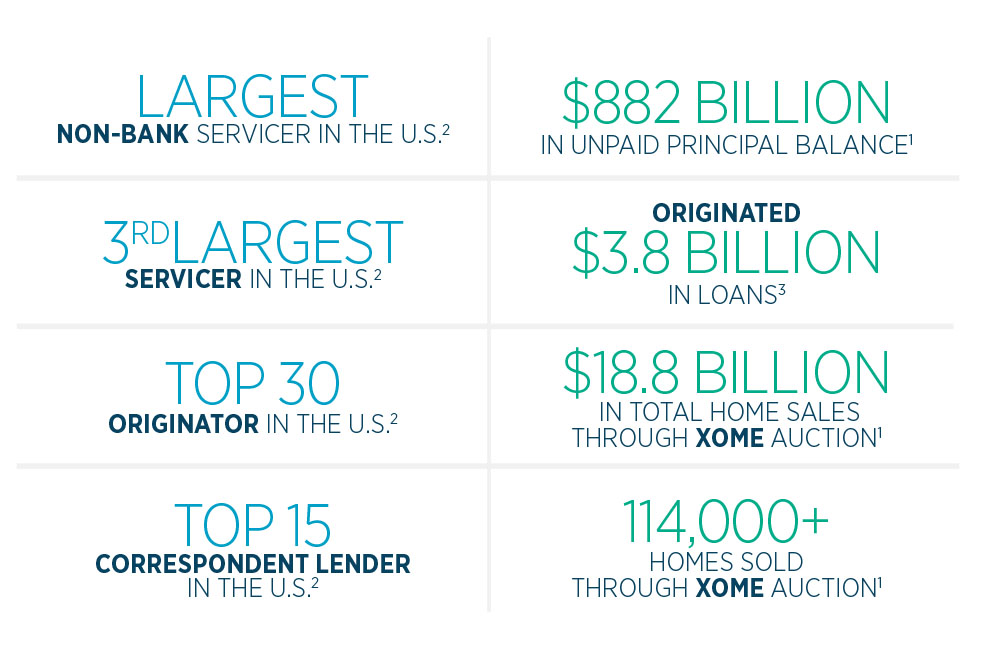 WITH EXPERIENCE SPANNING MORE THAN 20 YEARS, MR. COOPER GROUP INC. HAS CAPABILITIES TO SERVE OUR CUSTOMERS AT EVERY POINT ON THEIR JOURNEY TO HOMEOWNERSHIP THROUGH OUR SERVICING, ORIGINATIONS AND REAL ESTATE SERVICES BRANDS.
1) As of June 30, 2023; 2) According to Inside Mortgage Finance as of March 31, 2023; 3) Reflects a 3-month period ended June 30, 2023
This site is not authorized by the New York State Department of Financial Services. No mortgage loan applications for properties located in the state of New York will be accepted through this site. Nationstar Mortgage, LLC NMLS ID #2119 NMLS Consumer Access (www.nmlsconsumeraccess.org).